TENNIS *G*O*L*D* FOR CANADA!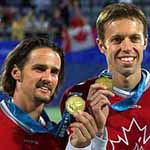 Words can't describe how exciting and inspirational it is for a Canadian tennis player to see Daniel Nestor and Sebastian Lareau win the gold medal in men's doubles tennis. Cheryl and I watched it live on the CBC. It's so weird to have TSN news-anchors doing the commentary on CBC, but I think it's great how they're collaborating on the coverage of the games.
Earlier this week I predicted Nestor would win a medal. I'm so happy for Canada, as a nation we needed that win so badly! Thanks!
Written on September 27, 2000